Profile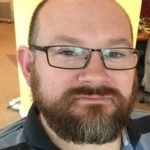 Rob Ives
Curriculum Vitae
Education:

Open University; City of Westminster College; Sir John Newsom Secondary School

Qualifications:

Degree in Biological Sciences; BTEC 3 in Applied Sciences; lots of diploma level courses; A' Levels and some GCSEs

Work History:

GSK (where I work now); Computacenter (building computers for large companies); National Institute for Biological Standards and Control (animal technician); Buccentaur Gallery (packing greeting cards)

Current Job:

In-vivo and Formulation Research Scientist

Employer:

GlaxoSmithKline in Stevenage, Hertfordshire

We are a science-led global healthcare company with a special purpose: to help people do more, feel better, live longer.

GlaxoSmithKline plc was formed in 2000 as a result of a merger between Glaxo Wellcome plc and SmithKline Beecham plc , although our history can be traced back more than 300 years to London's Plough Court Pharmacy in the 1700s.

Our goal is to be one of the world's most innovative, best performing and trusted healthcare companies.

Our strategy is to bring differentiated, high-quality and needed healthcare products to as many people as possible, with our three global businesses, scientific and technical know-how and talented people.

Our values and expectations are at the heart of everything we do and form an important part of our culture:

Our values are Patient focus, Transparency, Respect, Integrity
Our expectations are Courage, Accountability, Development, Teamwork
Favourite thing to do in my job: Mentoring students and young scientists

About Me: Part time Lego addict with a wife and two 'challenging at times' sons

Read more

I live in Hatfield, Hertfordshire, with my wife and two sons (11 and 17 years old), a leopard gecko ('little dragon'), two gerbils (Ouzi and Gracie) and a tank full of stick insects. Would love to own a dog, but we are so busy at work, it wouldn't be fair on them right now. Sharon, my wife, is a teacher and has even less spare time than I do!

I got bored with school and left education at 18 after completing my A Levels. I was lucky enough to find a job where I was allowed to study for my science degree part time which was better for me than going to University. I love to learn, but in my own way.

I love animals and in my spare time, enjoy going on wildlife walks, especially around some of the local lakes where I often come across grass snakes and other interesting creepy crawlies. I also like to help out at local athletics meetings as a field judge (it can be a bit scary seeing a javelin get caught in a gust of wind and start flying straight at you). 'The Simpsons' and 'The Big Bang Theory' are my favourite TV shows. I also like thriller and horror movies.

My Work: I test medicines using animals and help to develop medicines for children which don't taste bad.

Read more

I am an in-vivo scientist (that means I work with animals) creating new medicines for humans. A major part of my job is to test the taste of medicines for children (kids won't swallow medicine if it tastes bad) and make special recipes which include the medicine that the children will hopefully take (kind of like making a cake). I have a special group of rats (picture below) who act as my taste testers and when I give them a tiny bit of medicine in water, they will lick it and I can work out if the medicine tastes horrible or not. The rats only get a tiny bit of medicine so it doesn't make them feel bad.

I also work with scientists at University's to help find easier ways of testing medicine and recently worked with a Professor who used slime mould (picture below) to test if chemicals might taste bitter or could be dangerous to humans. It's amazing.

My Typical Day: Say 'hello' to my rats, write up a study plan (bit like home work) and test some medicine.

Read more

Whenever I can, I will go and say hello to my rats. I have some amazing people who look after them for me, keep them clean with lots of food and water and make sure they are healthy.

When I have a chemical that needs testing I have to write out a special form that says why I need to use animals and show it to some vets and scientists who must all agree before I can run an experiment. There are lots of laws that protect the animals to make sure that they are only used when there is no other way of testing to see if a chemical might become a medicine. All of our animals are cared for by trained people and we have lots of vets available if an animal becomes unwell.

In the afternoons, I often have lots of meetings where we talk about things like the new medicines we need to make to help people, or things we can do to improve our animals lives.

Once I have finished an experiment I have to write up my results. This is a little bit like doing homework but is very important. Sometimes I have to stand in front of a room full of scientists and tell them all about the experiments I have been doing, which can be a bit scary.

What I'd do with the prize money: Sensory science kits for a local special school

Read more

Some children have learning difficulties which can make learning new tasks and communicating with other people quite challenging. These children often benefit from environments which provide high levels of sensory stimulation. Sight, sound, smell, taste, touch – the correct stimulation of any or all of these can help these young people to interact with and better understand the world around them.

If I win, I would use the money to provide some sensory science kits to a special school close to where I work. These kits will help the young people to developing their understanding of science and assist them in coping with life and the challenges it presents them with.

My Interview

How would you describe yourself in 3 words?

Slightly mad scientist

What or who inspired you to follow your career?

My bonkers science teachers at school always looked like they were having fun, and my Mum.

What was your favourite subject at school?

PE

What did you want to be after you left school?

A wildlife TV presenter - someone like David Attenborough.

Were you ever in trouble at school?

Yep, quite a lot, and for many different things (although I was never horrible to people).

If you weren't doing this job, what would you choose instead?

Airline pilot or a teacher

Who is your favourite singer or band?

Ooh! I like lots, from Led Zeppelin to Katie Melua. Ed Sheerans pretty cool. Any music with guitar or saxophone. Favourite alltime, probably Queen

What's your favourite food?

Indian food and iced donuts

What is the most fun thing you've done?

Flew in an air balloon in Africa and landed a bit too close to a pride of lions - that was pretty cool.

If you had 3 wishes for yourself what would they be? - be honest!

I'd wish for: 1) A house big enough to own all the pets I've always wanted; 2) To be 10 years old forever - I could get away with so much; 3) A happy and healthy family

Tell us a joke.

Why didn't the teddy bear eat its desert? Because it was stuffed.....boom boom!
---
---