Profile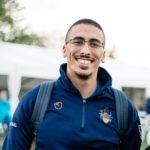 Imad Ouachan
Curriculum Vitae
Education:

Kings Manor Community College (2007-2010) a small state school. Shoreham Academy Sixth form (2010 – 2013) a small college with very few people going to university.

Qualifications:

Master of Chemistry Degree. A-Levels - Psychology (A) Chemistry (B), Biology (B). GCSE – 11 x A - B including English, Sciences, French, Arabic and Maths.

Work History:

Worked part time - in Mcdonalds for a summer during my first year of A levels to pay for my driving lessons. Was also a Lab technician helping setup experiments at my school during my third year of A levels.

Current Job:

PhD Student.

Employer:

EPSRC Centre for Doctoral Training in Advanced Composites for Innovation and Science (ACCIS CDT) at the University of Bristol.
Favourite thing to do in my job: Learning new things every single day!

About Me: Sport loving PhD student living in Bristol.

Read more

Hi, my name is Imad and I am a 2nd year PhD student at the University of Bristol. I grew up on the south coast in Brighton with my parents, brother and sister.

I'm a huge fan of sports growing up playing Sunday league football before changing mind and deciding basketball was that sport for me! I've been play basketball consistently since I was around 14 while also taking part in other sports such as boxing, rugby and olympic weightlifting over the years.

I am huge fan of tv and films and see myself as a bit of a critic. I have especially enjoyed seeing the marvel universe (DC is rubbish!) develop bringing my childhood to life on the cinema screen is fantastic.

My Work: My PhD reasearch is looking at improving wind turbines so they can survive for up to 25 years out at sea.

Read more

As we all know fossil fuels are not only bad for the environment by contributing to global warming, but they also will eventually run out meaning we need an alternative. Renewable energy such solar or wind are great options that use natural resources to produce clean energy.

My project is working with offshore wind turbines that have blade of up to 100 meters long! As they are far out at sea, they see some harsh conditions which cause damage making them less efficient or even causing them to break and make a gigantic mess. I am trying to develop a solution for this and trying to make them last longer making wind energy the best source of energy for the future.

I think my work is interesting because it bridges two fields, Chemistry and Engineering to solve a real life problem.

Below is a picture of myself Usman and Hernaldo just before testing a beam we made together for our project.

My Typical Day: Reading, research, teaching and more reading!

Read more

Days can vary a lot during a PhD but generally My time is divided up into:

Background reading into what other people are doing
Thinking about what work I can do in my research
Doing the actual research and writing up my results
Having meetings with my supervisor to discuss how my work is going and come up with new ideas
Meeting other researchers to see if we can work together
Going to conferences to share my work (I've been lucky enough to have been to Spain and Netherlands and Norway for work).
Hanging out with my fellow researchers who really make the office a great place to be    (see image below of us out at laser tag!)

What I'd do with the prize money: Put towards developing an outreach event for local school to get people talking about options after education.

Read more

I would like to spend the money towards a fun science experiment (think fires, explosions and loud noises) that can be conducted at schools as a way of getting people talking about the option available to them after education.

I personally didn't know that STEM was so broad and that there were so many options to choose from and I think it would be very beneficial for people to be made aware be able to ask questions.

My Interview

How would you describe yourself in 3 words?

Friendly, sporty, scientist

What or who inspired you to follow your career?

The TV show Brainiac always made science look fun!

What was your favourite subject at school?

P.E

What did you want to be after you left school?

I wanted to be a scientist which why I carried on studying for my Chemistry degree.

Were you ever in trouble at school?

Your only get in trouble if you get caught...

If you weren't doing this job, what would you choose instead?

I would have probably gone down the medically route to be a doctor.

Who is your favourite singer or band?

I like listening to the radio and hearing new songs.

What's your favourite food?

Smoked salmon.

What is the most fun thing you've done?

My year abroad working in Vancouver as a scientist

If you had 3 wishes for yourself what would they be? - be honest!

Happiness, money and more wishes...

Tell us a joke.

Game of thrones season 8.
---
---