Profile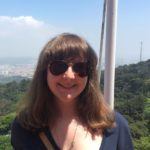 Fern Johnson
Curriculum Vitae
Education:

Newbridge School (2005-2010), Crosskeys College (2010-2012), University of Oxford (2012-2015), University of Manchester (2016-2017) (2018-

Qualifications:

MSc in Bioinformatics and Systems Biology, BA in Biological Sciencs, A*AAB A levels (Biology Chemistry English Lit German)

Work History:

My first full time job was for the charity Marie Curie, who provide palliative care (care for people who are dying). My job was phone based, giving out details of nurse visits to patients or their family, and giving patient details to nurses before their visits. It really gave me a perspective into what it is like to be or care for a terminally ill person, and how much difference care could make. Particularly, that even someone being the scenes is really important in making all this happen. After my MSc I worked for two IT consultancy firms, helping large companies use their data well - this exposed me to useful skills like accessing large databases, and I enjoyed the technical and problem solving aspects of this work. But it definitely wasn't as fulfilling as working in healthcare, and the lack of science wasn't as interesting.

Current Job:

Trainee Clinical Scientist in Bioinformatics (Genomics)

Employer:

I work in the Bioinformatics Group in the Genetics Diagnostic Laboratory, which is part of the Manchester Genetic Medicine Center (MGMC) in St Mary's Hospital, in Manchester.  It is part of the Manchester University Hospitals NHS Foundation Trust.  In the future centre will become the genomics hub for the whole of the North West of England, and work with other hospitals in Liverpool, Lancashire, as well as the specialist cancer hospital The Christie.  As well as providing a genetics testing service for patients, the lab also works closely with researchers from the University of Manchester.  The lab also played an important role in the 100,000 genomes project, which aimed to sequence all the genes in nearly 100,000 people.  All the participants had either a rare genetic disease, a cancer, or rare infections.

These are some of the types of inherited disease the lab offers testing for:

Cardiovascular (heart diseases)
Ophthalmic (eye diseases)
Metabolic disorders
Learning difficulties
Cancer
Rare diseases

The lab also provides testing to current cancer patients and tests the genes in tumours.  Cancer is caused by genes losing their ability to stop mutations happening, tumours have lots of mutations.  Depending on the mutations in a tumour, we can now recommend specific treatments that will be effective against that cancer.
Favourite thing to do in my job: Learning about really cool, cutting edge stuff that can one day help real patients

About Me: Wales born, Manchester based, I like nerd stuff like books and games (and promoting STEM of course)

Read more

I'm 25 and live in Manchester with my boyfriend and two cats (one of them is just called Cat).  I grew up in Newbridge in South Wales.  I can't speak Welsh very well but I religiously watch the Welsh TV programme Pobol y Cwm (with subtitles on).  I'm obsessed with sausage dogs and own way too much stuff with sausage dogs in.

In my spare time I like watching TV or films and going for walks.  I dabble in baking as well and can do a mean vegan chocolate chip cookie.  I also enjoy gaming on my Switch, I like really story driven adventure or exploration games – because I'm really bad at anything intense where you run around shooting things.

Since I went to university (nearly 7 years ago now) I've tried to keep involved in outreach for STEM and/or higher education.  I was the first person in my family to go to university and the first to get involved with science,  and now work in a niche area that isn't well known, so I'm very enthusiastic about encouraging young people to think about STEM careers.

My Work: I'm a trainee clinical scientist in bioinformatics, working in a genetics department in a hospital.

Read more

To make everything else make sense, first some definitions:

Genomics

Genomics is the study of genes and their functions (as defined by the World Health Organization).  Genes are like the blueprint of a person, and make us who we are.  We inherit half our genes from our mum and half from our dad, which is why we look a bit like our parents.  Sometimes genes get mutations, which can stops them working properly and make us ill.  Faulty genes can be passed down generations in families.   In the NHS, genomic testing is used to help diagnose disease by looking for mutations within genes that we know can involved in a particular disease.

Bioinformatics

Bioinformatics is the science of collecting and analysing complex biological data such as genetic codes (according to Google, but it's a good definition).  Bioinformatics is a very broad field that can cover almost anything involving both biology and computing, but in genomics it's focused on processing the complex  data genetic testing produces, so that genetic scientists can understand the results of the tests, and report them back to the patient's doctor.  It's very important that the results are processed correctly, as they could mean that a patient is diagnosed with a specific disease and need special treatment for it, or that their children might inherit this disease.

My Work

I'm a trainee clinical scientist in bioinformatics, specializing in genomics.  I'm on the first year of a three training programme, during which time I complete a work-based portfolio , and a part-time master's, with the aim of becoming a registered clinical scientist in bioinformatics.  Bioinformaticians spend almost of their time on computers, running computer programs that translates the genetic testing results into useful information for other clinical scientists scientists, writing new computer programs that allow different genes to be tested or to make current testing better, building databases, researching new tools that might improve the current service, and much more.

Bioinformaticians are just one part of the genetic testing service – clinical scientists in genetics are responsible for arranging patient testing and interpreting the test results, and genetic counselors talk directly to patients about genetic testing, helping them understand the impact of testing, and what their test results mean.  There are also technologists who do all the lab work as part of the testing, and doctors and nurses who specialize in genetic diseases.  Everyone plays an important part in running a genetics testing service.

I some of my time attending tutorials and having teaching, but a lot of my work is structured into projects, that give me useful skills for the future and tick off my competencies.  Not all my projects are directly related to genomics or bioinformatics, but it's important for a scientist in the NHS to have an appreciation of the health service and the wider issues that surround it.

My Typical Day: Working on different projects, writing computer programs, attending team meetings, solving problems, reading papers, writing up for my portfolio...

Read more

My day as a trainee can vary quite a lot depending on which rotation placement I'm doing, or whether I'm at university, or taking a study day.  I take one study day a week so that I have time to work on my master's assignments or revise for upcoming exams, and occasionally I attend university like a regular student, though I don't have anymore university until November.

Usually I'm working on one or more projects at a given time.  This could be working on a simple computer program, or going through an old program that someone else wrote that needs to be updated.  It's easy to spend a lot of time stuck on one problem, and a lot of time on the internet trying to see if anyone else has already solved it.  It is very satisfying when you solve the problem and get something working!  I'm lucky to be in a department where there is an established team of experienced bioinformaticians who can help me.

If I get stuck with something, or reach a natural place to stop, I'll switch to something else – I get bored doing the same thing all day and get to manage my own time largely.  Trainees are regularly expected to present scientific papers at meetings, along with other staff in the department.  It takes time to find an interesting paper, then build a presentation about it.  Ideally the paper should be about a new technique or approach that we could start doing in our department.  Part of a clinical scientist's job is to translate ideas from scientific research into new tests in the lab, so we can provide a better service for patients.

I go to  bioinformatics team meetings.  There is normally at least one of these a week, where everyone discusses how the daily service is running, or how their new projects are going.  If it's relevant I can update the rest of the team on how my projects are going.  I don't always understand everything said in meetings, but it's important for me to go to know about the bioinformaticians are working on.

I also attend tutorial sessions – qualified clinical scientists in the department spend some of their time teaching trainees like me.  This might be about a certain technique or service in the lab, like the cystic fibrosis testing service.

What I'd do with the prize money: I'd spend it on outreach resources that the genetics department can use for events

Read more

The thing I would most like to buy for STEM engagement is a portable DNA sequencer.  Unfortunately those are still too expensive!  However there is a lot that could be done to improve the outreach resources that the genetics department use, there is some kit for demonstrations but I think perhaps some materials like posters would spruce up any stands we hold, or little bits to give away to students that would help them remember us.  All the department clinical science trainees take part in engagement and we often work together, so I would discuss with them what best to spend it on.

One idea that I have is to get some cheap portable computers (like raspberry pis) and set them up so that students could have a go at some programming or problem solving activities to get a feel for the things a bioinformatician does.

My Interview

How would you describe yourself in 3 words?

Enthusiastic, Curious, Reliable

What or who inspired you to follow your career?

After working for the charity Marie Curie I really wanted to do something that could make a difference to people's health. When I found out about the scientist training program, and that you could do bioinformatics and genomics, I knew that this was my ideal career

What was your favourite subject at school?

Biology, I liked English Literature a lot as well. English is actually a very useful subject for a trainee clinical scientist, as you spend a lot of timing writing university assignments and competencies.

What did you want to be after you left school?

I didn't know! I wanted to be a doctor for a while but ended up doing a Biology degree because I liked the subject. I got to work in the NHS in the end though so things worked out quite well I think.

Were you ever in trouble at school?

Nope! I maybe had a couple of detentions for silly stuff for forgetting my work or writing in the wrong exercise book. I was very shy and hated the idea of being in trouble.

If you weren't doing this job, what would you choose instead?

I would probably be working as a bioinformatician for a private company, though I don't think that would be as rewarding as working in the NHS and being involving in patient testing. I wouldn't mind being something like an IT analyst, there's a lot of similar skills to my current job like problem solving and programming.

Who is your favourite singer or band?

The Divine Comedy

What's your favourite food?

I like all kinds of food but you really can't beat a nice pizza

What is the most fun thing you've done?

I went to Alton Towers on a rainy random Tuesday and it was so quiet we didn't have to queue and rode the best rides loads of times. I'm going to visit Japan this summer and I think that might be the new top!

If you had 3 wishes for yourself what would they be? - be honest!

To finish my training and quality as a clinical scientist without any problems! I hope this happens anyway, but I'm sure there will be problems, that is the life of a scientist. I wish I could become an amazing programmer, it would make parts of my job easier! I have some programming experience but have a lot to learn. I wish that people had a better understand of genetics and the good that is happening in this area - in the news it's always the controversial science that gets reported, and in films it's always a mad scientist creating genetically engineered monsters.

Tell us a joke.

I tried my best to think of one but came up with nothing.
---
---