Profile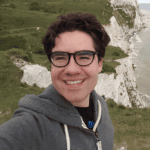 Christian Gude
Curriculum Vitae
Education:

1992. Born in Paris, France. 1998-2001 Primary school in a suburb of Munich, Germany. I specialised in playing dodgeball and was allowed to skip second grade. 2001-2003 Secondary school in Munich. My favourite subject was PE and maths. I wrote some terrible (but funny) essays in German class that I still secretly like to read. My friends and I collected returnable bottles and cans on the premises and saved the deposit to buy a pizza every Friday. 2003 - 2010 Secondary school in Neubeuern, Bavaria, Germany. My dad became my headmaster and I was allowed to go to a boarding school for free. My school was a castle in the alps and my classmates were from all over the world. Here I started to like chemistry! 2010 - 2016 Bachelor and Master's degree at the Technical University of Munich in Biochemistry. For the first time, I could follow my curiosity wherever it took me! 2017 - today: PhD Student at Nottingham University, Synthetic biology.

Qualifications:

German Abitur (A-levels) with specialisation in Mathematics, Biology, Philosophy and English language. Bachelor of Science in Biochemistry Master of Science in Biochemistry

Work History:

Jobs I have had over my lifetime: - Winemaking in Bourgogne, France. My job was to seal the bottles, put the cork, the griffe (the metal bit that holds the cork on top of a bottle of sparkly wine) and the label on and pack them into boxes. - Libriarian. I helped students to find books they needed and made photocopies of rare 18th century science journals from the archives. - Teacher. I taught students chemistry for A-levels and helped them to understand the main principles and develop a "feeling" for chemical reactions.

Current Job:

I'm a PhD student.

Employer:

University of Nottingham, Synthetic Biology Research Centre (SBRC)
Favourite thing to do in my job: Friday afternoon experiments!

Read more

Chris facts:

Scientist based in Nottingham. Trying to save the world with CO2 eating bacteria 🌍.

I'm 1/3 German 🤓, 1/3 Mexican 🌮 and 1/3 French🤔 !

In my free time, I love to travel, cook tasty food, play badminton and I watch way too many funny cat videos 🐯✨ (I really like kitties. One day I'll be a crazy cat dad.)

I play piano. And I can't hit a single note when I try singing, but I do it anyway! 🎵

My lab mates like me for telling them jokes all the time… but they respect me for knowing I could pick their locks if I wanted…!🤭

I don't watch series on tv much (no Netflix!) but I go to the cinema about three times a month. I mostly like thrillers, action movies and animated movies. The last movie I saw was Detective Pikachu and it really reminded me of my own childhood – I know all 150 first edition Pokemon! But I lost track after that 🤣 My favourite Pokemon is of course Persian 💝

My mum likes to watch "The Big Bang theory" and says that I remind her of Leonhard. I wonder if she's right – have you ever watched it?

My Work: I am a synthetic biologist and genetically engineer bacteria to make nylon from waste gases such as CO2.

Read more

I work in a biological laboratory with CO2-eating bacteria! Our lab is really high-tech, we have big robots and a special security biohazard room. You are not allowed in there without your buddy and it's kept pressurised so no harmful bacteria can escape.

I work on bacteria that can eat CO2 from steel mills and convert it into something that we can make fibres like "nylon" with. Those can be used for clothes. That way, I try to reduce CO2 emissions from the industry and make something useful with it! We all need to try as hard as possible to keep our planet cool and clean and I really hope I can make a little difference with my idea.

Read more

Once I made it to my lab through 4 secure doors (3 ID card swipes and one PIN code), I put my white coat on and start to make an inventory of all the things I have left the previous day.

Which of my bacteria grew nicely over night and which didn't? Are the experiments I left running over night doing fine?

Once I know what worked and what didn't, it's time for a morning coffee and I write down my plan for the day. I like having a plan, except when I am cooking or traveling.

Often I have a meeting with other scientists during the day and we sit together and talk about ideas we have or try to help each other when someone has a problem they need advice for.

Then I work through my plan and write everything I did into my lab book at the end of the day. It's a lot like a "work diary". My boss is very curious and likes to read my work diary a lot, so I try to keep it tidy.

What I'd do with the prize money: Make a game!

Read more

The outreach team of the Nottingham SBRC has developed a fun board game called "game of fuels", in which the participants answer questions about the environment, global warming and the role of new technologies towards a more sustainable future. I'd like to use the prize money to update the game to make it even more fun and engaging! For example, to print questions and answers on cardboard instead of paper, reducing the amount of printing we have to do before we take the game to the public to play in libraries or schools.

My Interview

How would you describe yourself in 3 words?

Curious, playful, inventive!

What or who inspired you to follow your career?

My 10th grade chemistry teacher!

What was your favourite subject at school?

Chemistry

What did you want to be after you left school?

A patent attorney!

Were you ever in trouble at school?

Countless hours in detention for homework I didn't do. I also once accidentally set a room in my school on fire with chemicals, but luckily no-one was hurt (:

If you weren't doing this job, what would you choose instead?

I'd do coaching or consulting.

Who is your favourite singer or band?

Imagine Dragons. Carlos Santana.

What's your favourite food?

My late grandma's mexican tomato soup.

What is the most fun thing you've done?

Making my own fireworks!

If you had 3 wishes for yourself what would they be? - be honest!

1. Visit Mars and build my castle on it. 2. Have the magic power to make plants grow and flowers bloom. 3. Discover Atlantis!

Tell us a joke.

How many Germans does it take to screw in a lightbulb? Answer: One. Because we're efficient and don't do jokes.
---
---